As a vegan ultra endurance athlete, ABT has significantly boosted sustainable energy reserves, improved my HRV, and improved gut health resulting in improved training performance and recovery.
Preferred job/title/role: Senior Leadership Advisor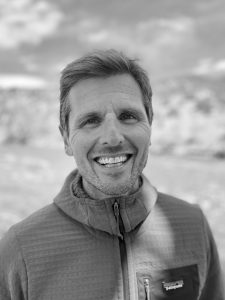 Anything specific about you or your brand that you want us to help you share or promote via social? Better Faster Further helps organizations, teams, and leaders accelerate peak performance through consulting services, individual coaching, and technology delivery.
Hometown Salida, Colorado
Alma mater Ft. Lewis College, Durango Colorado
Primary Sport: Ultra Running
What you are working toward now? Moab 240 October 7, 2022! I've tested twice so far and will test one more time before Moab. I will be very curious to test post-Moab to look at the physiological impact of 240 miles on the body.
Congrats Adam on completing the Moab 240!
The athletic accomplishment I'm most proud of is…
Great question…in recent history, placing 7th in the Silverton Ultra Dirty 100 Mile course in 2021. In past experience perhaps guiding class V kayak clients on the Futaleufu River in Patagonia, Chile.
Facepalm/most embarrassing/funny athletic moment :Yikes…swimming out of my kayak in my first competition as a sponsored athlete. Luckily 🙂 no videos exist!
Favorite non-athletic/sports hobby/activity Cooking for sure. I prefer plant-based nutrition and love having friends over and preparing a plant-based meal that everyone from every dietary background enjoys.
My personal "walk-up"/motivational/current theme song is….? For many years people have said I look like Tom Cruise. It's not true :). That being said, my go-to would be Highway to the Danger Zone by Kenny Loggins
Best junk or "treat" food ever created: Pre Vegan nutrition, I'd say Peanut M&M's!
Favorite recipes (if you are a kitchen whiz, please include links to one or more): Cookie and Kate is my favorite go-to online recipe source and her veggie burgers are fantastic: https://cookieandkate.com/best-veggie-burger-recipe
Favorite athletic/sports book or movie: Rich Roll "Finding Ultra" or "Hell or High Water" by Peter Heller for the book and 100% "Friday Night Lights" for a TV show
What apps or gadgets do you use or recommend? Coros Vertix 2
Personal (non-athletic) superpower OR secret talent Self-appointed Burrito Samurai