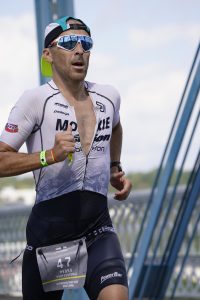 As an athlete, I'm always striving to get the most out of my body, and to do so, I constantly have to ensure that it is ready to take the load and perform at its best. We are like high-performing cars – every once in a while, we all go to the mechanic for a diagnostic evaluation of the engine to ensure it's running smoothly. Athlete Blood Test offers that service for athletes, customized with the biomarkers that really matter for high performance in sports and with real people looking at our biomarkers for a proper, more precise evaluation of what new "parts" I need and what changes do I have to make in my daily routine/diet to get the most out of it. 
---
What have you been up to in 2022? Mostly Ironman racing, a little bit of gravel, and trail running as well.
What do you have your sights set on for 2023?
I am continuing to pursue high achievements at Ironman racing and also continuing to race a few gravel events and trail running.
Current Netflix/Hulu/Prime (or whatever) obsession? Who has time to watch TV!
Currently playing in your ear: Very much into Armin Van Buuren's weekly mixes and alike peeps (Kaskade, Tiesto, etc.). Electronic music in general.
Current favorite podcast? The Dream Job Podcast, Trainer Road Podcast.
Pet peeve? Repetitive questions that I already answered in the past, but the person wasn't paying attention.
What else should we know? I currently lead and mentor a very successful squad of triathletes in Phoenix with 8 Kona Qualifiers in the mix!