Athlete Blood Test recently uncovered some deficiencies I had, and I am so happy to have one more piece of the puzzle to putting it all together!

I want to increase awareness to all athletes to learn their own body through individualized testing and self awareness of symptoms, energy level, and satisfaction with overall training and performance.

Jena Brown RD, CSSD, LD
Preferred job/title/role within your organization: Registered Dietitian
Hometown: Brenham, TX
Alma mater: Texas A&M University – College Station
Primary Sport: Running
https://www.facebook.com/victoremnutrition https://www.instagram.com/victoremnutrition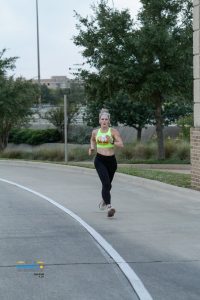 What you are working toward now?
Currently training for a marathon (Houston Marathon 2023).
I am working on many facets of my training from my fueling plan, ABT testing, high speed running analysis, upgraded my watch, and finally bought a heart rate chest strap.
I love how running is a personal journey one step at a time (literally and figuratively!).
The athletic accomplishment I'm most proud of is… Wisdom that success and winning is defined by each person at each event considering all things in life surrounding that training season.
My personal "walk-up"/motivational/current theme song is….?
"The Edge of Glory" by Lady Gaga
Best junk or "treat" food ever created: Mississippi Mud Cake
Favorite recipes (if you are a kitchen whiz, please include links to one or more):
Too many!