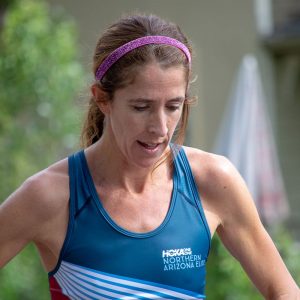 Most professional distance runners in the United States are prodigies who win titles at races like Foot Locker High School Cross Country Championships and NCAA Track and Field Championships then immediately jump into the pro races with aplomb. However a small number take a different path. They slowly rise to the top, steadily navigating a winding road and learning to extract every second of speed from their bodies. One of those is Stephanie Bruce, who has gone from a relatively unheralded early career to a 35 year old mom of two boys who can lay claim, at this halfway point in the year, to being the most accomplished American distance runner of 2019. Thus far she is the US's best cross country runner via her 33rd at the World Cross Country Championship; the US's best half marathoner via her win at that distance's USATF National Championship; and the 4th fastest outdoor 5k runner with her 15:17 PB at the USATF Distance Classic on May 16th.
To compete at this level and race her best, Stephanie regularly tests with Athlete Blood Test. I talked with Stephanie to learn more about how this helps her.
Q: In college your iron related ferritin level was a 4 when a normal level is 15-150. Knowing your history, do you feel like more athletes should get their blood levels checked?
A: I do. Firstly, you want to have a baseline as a starting point. That way things that come up like illnesses or life stresses won't confuse you and then you'll have a normal point to work off of. It's one piece of the puzzle that is essential as an athlete.
Q: Does knowing your blood levels give you confidence going into races?
A: Now it does. When I started to struggle around two years ago I had some bad performances and I didn't know what was going on. Then I got introduced to the team at Athlete Blood Test and the profile of not just ferritin but so many nutrients and vitamins that I didn't understand. Once I figured out the correlation between those and my energy levels then I started to feel better. Now I'm seeing performances that are truly indicative of me firing on all cylinders. Now I know what's ideal for me and I feel like I have it really dialed in.
Q: Is there a blood level marker that is important to you and you know you feel good when it's ideal?
A: Yeah, looking at hemoglobin and hematocrit are crucial. Hematocrit can be affected by hydration levels but 9 out of 10 times when I start to feel bad, I'm sluggish, or my energy is low then my hematocrit is a point lower than it should be. Now I know that one point of hematocrit is very significant when it comes to performance.
Q: Have you been able to solve the ferritin issues that challenged you in the past?
A: Yes, now my ferritin is rocking. Once I figured out that I had Celiac and that I had absorption issues then I went from 4 to the 40's in the first couple years and now I can get it anywhere between 60 and 80 and that's phenomenal for me.
Q: Is there a critical time of year to get your blood levels checked?
A: I try to do it very regularly, every 8 to 10 weeks. I focus more on it when I start to do heavy marathon training because my levels can change rapidly when I'm running 110 to 160 mile weeks. There's also something with the winter, possibly due to the lack of sunshine and vitamin D levels. It's an especially important time to get levels checked.
Q: As an athlete, is there anything else you've learned through the years about monitoring your blood levels?
A: Context is important when looking at blood levels. With my B12 and folate, my team couldn't figure out what was going on and it took me some time to determine that taking B12 can be bad for me and can give me the same effect as having anemia. I was taking vitamin B12 and I was feeling worse. I did a gene test and I figured out that I have a gene that affects B12 and supplementing B12 is bad for me. Food and nutrition are my first go-tos to increase blood levels but due to my Celiac that can be hard and I can't follow standard recommendations. As a result, you have to delve deep into blood levels and it has to be very individually based.
—
We wish Stephanie continued success this season. She will compete at the United States Outdoor Championships in July in Des Moines, Iowa. There, she can qualify for the World Outdoor Championships in September/October in Doha, Qatar. You can learn more about Stephanie on: her website or the Hoka One One Northern Arizona Elite Team website.